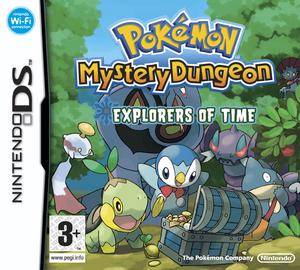 Pokemon Mystery Dungeon Explorers of Time-Nintendo DS
The sequel to Pokemon Mystery Dungeon Blue Rescue Team and Red Rescue Team. Another sequel that came out with it is Explorers Of Darkness.
Right, so you do the quiz like you normally do and then before you find out which pokemon you are, you have to do a 'aura' thing- mine came out mint green.
Just like the original Pokemon Mystery Dungeon, the core gameplay of the sequel revolves around performing jobs that show up on the message board. These jobs are usually rescues or delivery tasks that require players to enter the same dungeon over and over again. As you accomplish more tasks and knock them off the list, you'll drive the story forward and learn more about the mysteries of Time, Darkness, and why there's a team of jerk Pokemon trying to get in your way.
The game is just like the first ones really.
You're parter, at the start of the game is really nervous and scared but throughout the game he overcomes his fears.
An example of a pokemon asking you to form a rescue team.
He/she does become upset when you leave....but Dialga brings you back- for good.
These rich colours make beautiful scenes, but you don't get to see them for long.
Sometimes, because of CPU(Computers) controlling all the other people in your team apart from yourself- sometimes you could be facing someone really hard and then the computers will go pick a move that wont do anything to your opponent and then next thing you know you have died/you are history!
But in this game, you work for a guild so most of your money you earn goes to the guild and your partner thinks its not fair.
You can often find treasures and things that belong to pokemon but in this picture some pokemon have found a treasure chest....
Overall I think the game is just the same but with different plots.
I'm not sure what else to say about this game, but I rate it 7/10
Now, they are making another sequel to the game. Pokemon Mystery Dungeon Explorers Of The Sky(I found the japanese ds boxset for it! Its not fake!) :