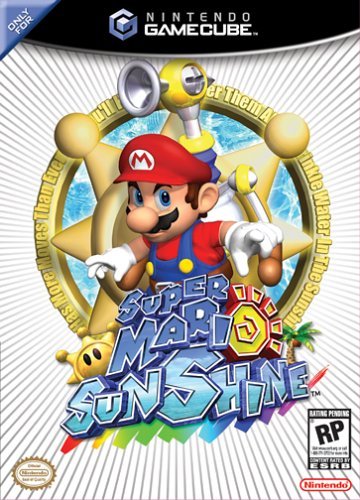 Super Mario Sunshine
Mario makes his debut on the Nintendo GameCube with Super Mario Sunshine. On a vacation away from the Mushroom Kingdom, Mario finds himself in a messy situation on the Island of Delphino, where a Mario look alike has been causing all kinds of trouble. Explore huge 3D environments that range from a lush waterfall paradise, to an exciting amusement park complete with a rollercoaster you can ride. Mario makes use of a new water pack, which allows him to hover, launch, and rocket around levels, as well as spray enemies with. Mario has never had so many cool new moves, or looked so good in 3D.
(But then Nintendo delivered a new amazing game in 2007- Super Mario Galaxy for the wii- I love this game)
Mario is back, Nintendo's mascot is back- The fans will be happy!
It is a continuation of the Super Mario 64 style. Level design, control mechanics, and gameplay concepts have been nicely refined, but it is not a revolutionary product. As the legendary series' creator Shigeru Miyamoto constantly noted, it is "evolutionary," more than anything else. If this is your cup of tea, then Super Mario Sunshine is a vacation package you shouldn't deprive yourself of.
The concept behind the latest adventure is that Mario and Peach are taking a much-deserved vacation from the so often troublesome Mushroom Kingdom. Only, they quickly find out that there is trouble amuck at their island destination. A culprit has coated the world with goop and paint. Even worse, he just happens to look like Mario according to the locals. The would-be vacation instead turns out to be another day on the job for Mario. Mistaken for the true offender, he is convicted of the crimes and ordered to clean up the world with a water-spewing device that straps to his back, which just happens to add a whole new layer of depth to the usual platforming action. The vacation idea is novel, but with it have come some sacrifices.
(Ive got this game and i love playing it)
There are 8 worlds in this game and some bosses in the worlds(NOT COUNTING THE ONES that are made out of goo once you do certain things in worlds and come out the worlds) The pictures are below. of Mario's rivals and a new rival(I mean, Shadow Mario a.k.a Bowser Jr, Bowser and Mecha Bowser)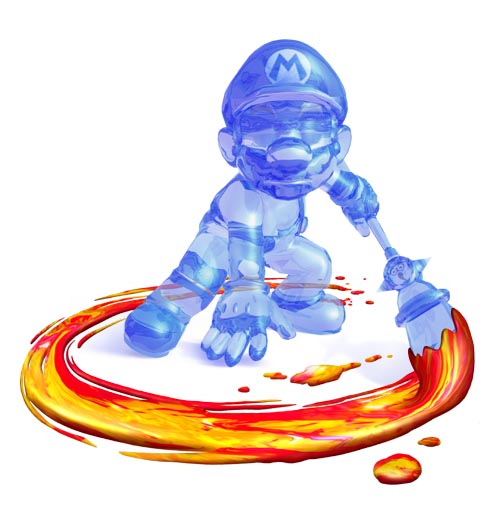 This is Shadow Mario. You first meet him when he kidnaps Princess Peach in Delfino Plaza. Then you have to go against him again in Blanco Hills in some episodes:The Path To The Windmill, Down With Petey Piranah! and Petey Piranah Strikes Back. You also meet him again in Delfino Plaza as he has stolen a new segemant of FLUDD( the thing on Mario's back) and the segment is a rocket nozzle. You meet him in many places and where there is a certain robot version of a real thing...Mecha Bowser. Who created it? Shadow Mario. So that must mean..Yes! Bowser Jr is Shadow Mario!

Mecha Bowser! He is controlled by Bowser Jr and I'm not sure if he made it. Anywho. When you meet him, watch the cut scene, its shocking, awesome and the vibration effects are awsome! He's not as scary as the proper Bowser.
Right, once defeated every boss in the game you face one final task. Corona Mountain-containing your biggest rival who has now got hold of Princess Peach himself.
Yep thats right, Bowser*(Ill explain the star in a minute)
After defeating him, you and Princess Peach get out. Oh i forgot to mention, BOWSER ACUALLY TALKS IN THIS GAME! However after this battle, FLUDD is damaged and the toads reapir him and then the game ends with Mario and P.Peach taking thier vacation
* Bowser- Bowser scares the hell out of me and honest to god, If I just looked at him for about 2 seconds I'd have nightmares for like 2 weeks!. Yes I kow I am weird. I still have nightmares...Yes I am a freak ....
ANYWHO BACK TO THE REVIEW!
On the whole, Super Mario Sunshine is a solid game with a really distinctive look and some great moments, but it also has its fair share of shortcomings.
8/10 for me
Super Mario Sunshine, released only for Gamecube and it was released in Japan on July 19, 2002, in North America on August 26, 2002, and in Europe on October 4, 2002
P.S SORRY FOR THE SIZES OF THE PICTURES!
------------------------------------------------------------------------------------
(p.s my age and signature on here is a joke I found funny)